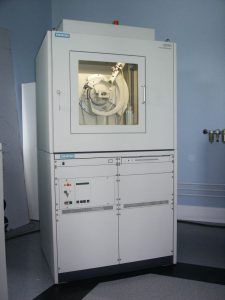 All D5000 and D5005 instruments now include a 1 year limited warranty against component failure and receive a full goniometer rebuild. All axes are stripped down to individual ball bearings for a complete rebuild and lubrication including all new sensors, switches and cooling fan.
The Siemens D5000 and D5005 series XRD systems offer many advanced features of users who require additional axes, support for automatic generator control and/or compatibility with non-ambient thermal stages. The D5000 followed the D500 directly and incorporates many of the design features which made the D500 an incredibly robust instrument as well as a more advanced interface which simplifies the addition of additional axes. The D5000 operates with fully independent control of each axis which allows for rocking curve analysis as well as grazing incidence scans to be performed. These are truly "Research grade" instruments. User references available upon request.
Advanced training in theory, sample preparation, analysis and applications is available through Texray Laboratory Services, our in-house testing lab. Let our Ph.D. scientists eliminate the learning curve so you can hit the ground running with optimized methods and qualified staff.
Our Siemens D5000 diffractometers are thoroughly reconditioned at our Texas facility and can be ready for delivery anywhere in the world within 30 days of ordering in most cases. Our 50 years of experience specializing in Siemens (now Bruker) XRD and WD-XRF instrumentation and huge stock of components allows us to customize each machine to suit the users specifications as well. A limited list of optional hardware and software is shown below, but feel free to contact us if there's anything you're interested in which is not listed.
The system includes:
Used Cu anode X-ray tube with minimum 70% intensity vs. new
Single sample stage
Full set of interchangeable aperture slits slits
Computer with original software
2700 W Medium frequency high voltage generator
Integrated measuring electronics with scintillation detector
Fully Interlocked radiation housing
Manuals and schematics
1 year warranty against component failure under normal use (Additional coverage may be included in the quotation if desired)
The system may be configured to suit your needs with a wide variety of optional specialty attachments and software upgrades.
Diffracted beam monochromator
Variable anti-scatter and divergence slits
Grazing incidence attachment (for thin films)
Digital stepping Phi stage
40 position sample changer
New X-ray tubes of various x-ray tube target and focal types
Khi/Phi upgrade with Eulerian cradle
Anton Paar High and/or low temperature stages
Theta/Theta goniometer or Theta/2Theta goniometer
Closed loop water chillers
KSA Energy dispersive detector

Scan times reduced by 60-75%
Highest energy resolution available (~140eV)
Can be operated as an EDXRF detector for elemental analysis (optional software required)
Universal design
No need for battery backup, LNC or long warmup delays

Bruker Sol-X Energy dispersive detector (increased intensity with similar energy resolution to a diffracted beam monochromator.
Materials Data Inc. software upgrades may include everything from basic automation and data acquisition to full pattern analysis with plug-ins for many types of analysis. Upgraded software opens up the full potential of the D5000:
Datascan 5.0
Complete system automation
Real-time data graphing
Compatible with advanced D5000 features
Optional modules for Retained Austenite and Respirable Silica analysis interface directly with Datascan to eliminate the need for a full analysis package for some users
Instrument simulation with VXD module (standard)
State-of-the-art pattern analysis software
Whole Pattern Fitting (WPF) (Rietveld) analysis
Search/Match qualitative phase analysis (requires pattern database)
Calibrated quantification
Pattern simulation
Available with single user or network licenses
Many other advanced features are available as plug-ins for Jade. Please call if you do not see the capability you're interested in.
Advanced training classes are available through Texray Laboratory Services, a certified training outlet for all MDI Jade products.
All instruments are available for demonstration at our Dallas, TX area facility. Delivery, installation and training may be included in the final quotation. On-site service, remote support, upgrades and replacement parts are available nationwide with offices in Dallas, TX and Philadelphia, PA. KS Analytical Systems partners with JS Technical Services to provide unmatched support after the sale for all our customers based on a combined experience of nearly 50 years specializing in Siemens and Bruker XRD and WD-XRF instrumentation. Please feel free to contact us via phone or e-mail with any questions you may have.