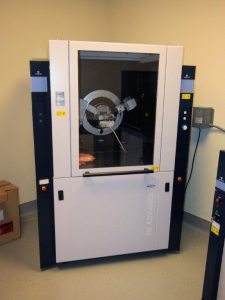 The latest version of the D8 comes in many different configurations covering powder (PXRD), High Resolution (HRXRD) and Single Crystal (SCXRD). Powder systems are the most common and that our focus at KSA. These are offered with a wide range of options.
The full power version uses the same K780 high voltage generator that the D8 Series II systems used. This will allow users to get the most from any common XRD tube. The generator requires external cooling water like most other systems, but it's commonly run at 1.6KW which represents a 60% (or greater) increase in intensity over the air-cooled, self-contained systems on the market.
The Eco variant uses a 1KW high voltage generator coupled with an internal water recirculation system to eliminate the need for an external water chiller while retaining the high degree of flexibility that the Advance series offers. The result is a system with all the capabilities of a research-grade system in a compact package that requires nothing more than an electrical connection.
The goniometer can be configured for either Theta/Theta or Theta/2Theta operation. With Theta/Theta goniometers, the sample remains stationary while the tube and detector move to complete a scan. This is essential for some specialty applications, but also extremely useful for loose powder work as the sample is not tilted during data collection. We recommend TT geometry for all systems with autosamplers. Rocking curves and grazing incidence scans are easy to set up as well.
There are multiple detector options available.
The base system would include a Scintillation counter. These have been the standard in XRD for decades. They're inexpensive, extremely reliable and offer the very best data quality across the entire angular range. Coupled with a Diffracted-beam monochromator, these are an ideal solution for almost every application.
The SSD160 Position Sensitive Detector (PSD) is an entry-level silicon strip detector which allows for extremely fast data collection.
Higher end options include the LynxEye series of silicon strip detectors. These offer increased energy resolution which provides a cleaner scan. The flagship model is the XE-T. These can even eliminate the Cu KB1 lines without the need for a Ni filter.
There are several sample stages available
Single sample stages offer a great deal of flexibility for samples ranging from 1mg of powder to a 10 lb bearing race. For moderate sample volumes, we recommend these as they're simple and completely reliable.
7-position Flip-Stick autosampler. Standard powder sample holders are included and a host of optional holders including zero-background, deep well and air-sealed versions are available.
The 90-position autosample uses a robotic mechanism and an array of "cassette", each holding 15 samples. It can be operated with a single cassette or fully loaded to maximize capacity.
Bruker's DiffracPlus sofware operates the instrument and data can be analyzed in either their proprietary EVA software (TOPAS for Rietveld) or Jade which we offer.
Advanced training in theory, sample preparation, analysis, and applications is available through Texray Laboratory Services, our in-house testing lab. Let our Ph.D. scientists eliminate the learning curve so you can hit the ground running with optimized methods and qualified staff.