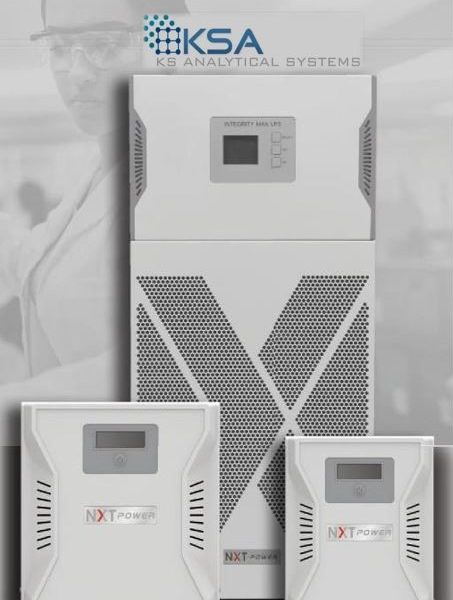 KS Analytical Systems is proud to present a new, total UPS solution for clinical and diagnostic laboratory systems, specifically designed for Bruker AXS, by NXT Power. The Integrity Max & Pro UPS is a complete power protection solution providing isolation, power conditioning, and backup protection for Bruker AXS systems. Regardless of input fluctuations, the Integrity series ensures that the output remains continuous and regulated.
The industry-leading UPS line is built to power sophisticated computer loads–systems with high inrush current and high crest factors–which eliminates oversizing and reduces operating costs. A custom design output receptacle panel and input line cord was designed specifically for Bruker AXS for faster and simpler onsite set up. These UL Listed and CE marked systems include features that are tailored to Bruker AXS requirements, such as 208 input, 230 volt output as well as 120 volt duplex (added for the attached computer to eliminate back door disturbances).
Protect your electronic systems and ensure uninterrupted uptime all day, every day. Enjoy peace of mind knowing equipment is protected from problems due to common-mode voltage, power outages, spikes & transients, and more. Below is a compatibility chart for Bruker machine models. Find out more and obtain a quote by reaching out directly to ksa@ksanalytical.com.